The challenges around real-time insight & engagement
We believe that using "real-time" data to identify and adapt to opportunities is the best way to unlock customer value. But for mid-size organisations especially, this can be hard.
Why? Mid-size organisations generally have a lot of customer data, held in various places.  They have different teams that need to access it, and different systems that need to act on it.  All of this requires 'systems integration', which can be expensive and time-consuming.  Plus there's data governance and security to think about, and marketing & IT teams that don't always see eye-to-eye on priorities or budgets. 
The martech landscape is also (to put it mildly) quite confusing, with counless systems and vendors that say they do the same thing, but in reality don't.  CDPs, DMPs, marketing automation, process automation, and everything seemingly "AI powered".
This can leave mid-size organisations with a range of not-altogether-ideal choices:
Build a solution themselves (expensive and time-consuming)
Try to integrate a range of different products (complex and time-consuming)
Buy into one of the big "marketing clouds" (complex and potentially expensive to manage as needs grow)
Outsource everything to one or more agencies (loss of agility and day-to-day control)
We firmly believe that most systems are interchangeable, but your customer data is one of your biggest and most valuable assets, and shouldn't be outsourced or "locked in" to a third-party proprietary system.  Increasingly, this will also become the case with Machine Learning (ML) models that are trained on that data. The performance of these models can give a significant competitive advantage, but only if the models can be adapted to your specific business needs.
To compete effectively, you need to cut through the cost and complexity of the data, ML and AI projects that large enterprises have been working on for years, without getting locked in to or limited by the specific capabilities provided by third-party platforms or agencies.
You need to own your own data and ML capability, without having to invest in data engineers and data scientists, and you need your data and ML insights to be instantly "actionable" across your marketing and commerce channels.
We've worked hard to build a software platform that gives mid-size organisations a clear path through these challenges.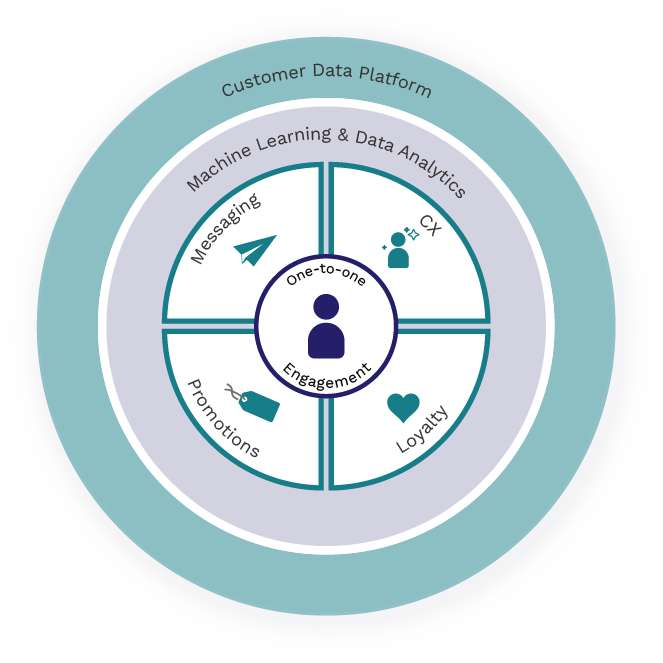 We've invested hundreds of developer-years into building a technology platform that enables and accelerates adaptive, fully personalised customer engagement.
Your own strategic data environment (Horizon AutoPilot), optionally linked to a broader suite of messaging, marketing automation, promotion management and customer loyalty tools.
Whether you just want the ability to get started with some solid, best-practice ML models to identify churn and customer lifetime value, or enable end-to-end personalised communications, sales promotions and customer loyalty tactics, we can help. Our client services team is also on hand to give you all the support you need, from the first conversation through to ongoing operation and ROI analysis.
And as your business grows and your needs adapt, Horizon will adapt with you. If you want to get hands-on and build your own ML models to address a specific business challenge, or re-design your CRM comms, promotion strategy or loyalty mechanics, Horizon (and HTK) have the flexibility and ease of implementation to make that process an easy, fun and successful one.
If any of this sounds interesting, we'd love to talk to you.
Interested in exploring the opportunity for real-time data?
We'd love to talk with you about your data journey and how Horizon can help you accelerate your path to customer value.