Horizon SendSmart
Build better relationships with joined-up, customer-centered marketing automation.
Data and personalization tools – perfectly aligned

Marketing automation falls flat when it feels like automation – dry, impersonal or irrelevant. That's why Horizon SendSmart puts joined-up customer data at the center, with a native (not integrated) CDP powering every message.
That means better alignment between raw data and your personalization tools, greater consistency across channels and less time spent switching between platforms.
With SendSmart, you can create personalized, data-driven marketing messages – across email, SMS, push and voice – to drive customer engagement and value.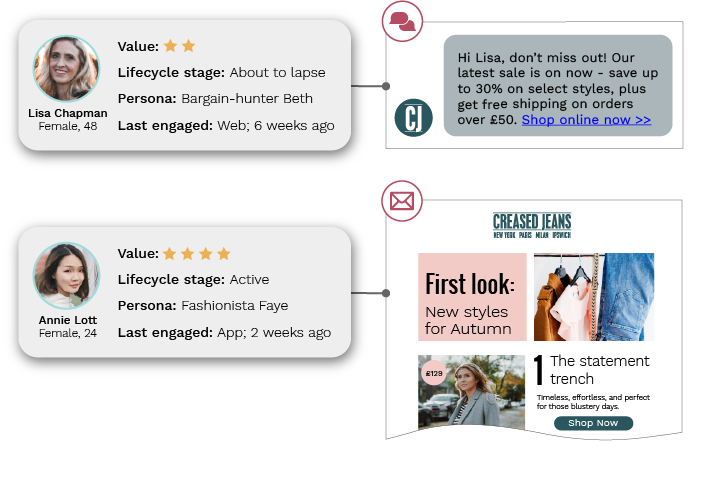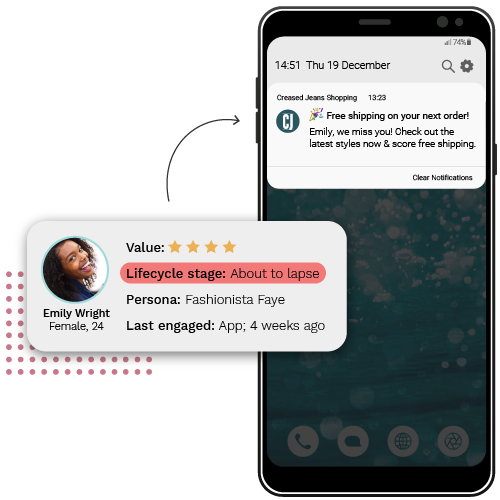 Personalization that adds real value

Responding to customer behavior in real-time takes a lot of coordination – your data sources & touchpoints, customer analytics software and marketing channels all need to communicate seamlessly and in real-time.
With Horizon SendSmart, data integration is simple and analytics are built-in – which means triggering real-time messages is a breeze.
Send a personalized email as soon as a customer's lifecycle stage changes from active to at-risk, for a better chance of rescuing the relationship. Or push a notification about a new product line when a shopper with your app walks in-store. 
With built-in and custom triggers, Horizon makes it easy to reach customers with personalized messages at exactly the right moment.
Increasing conversions with scheduled reminders
Park Farm Hotel had a pop-up on their website offering a 10% discount on their Summer Escape package, in exchange for a visitor's email address – an effort to both increase bookings and grow their subscriber list.
But most people forgot to use the discount after they'd entered their email — which often meant they didn't book at all.
Enter, the scheduled reminder email. The Park Farm team created a simple email with a countdown clock, reminding the subscriber to use their discount code.
They linked the email to the pop-up form and, using event-based triggers, set it to send 2 days after a form completion — and only if the subscriber hadn't yet made a booking.
Park Farm Hotel found that their subscribers were particularly responsive to the reminder email — 23% of contacts booked a room after receiving the message, resulting in an ROI of 4,772%.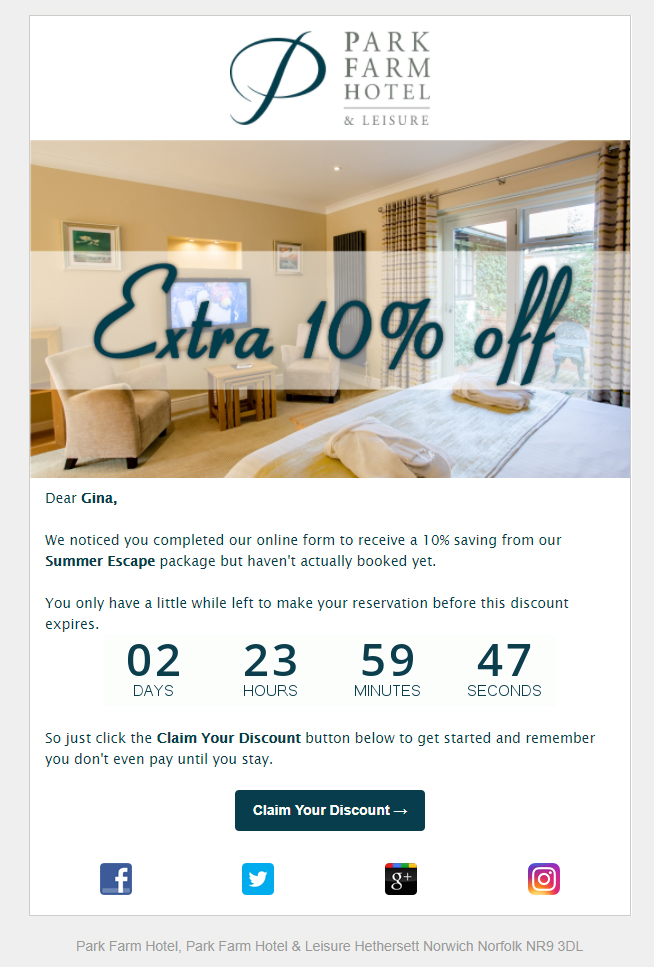 FEATURES
Simple, powerful tools to level-up your direct marketing
Dynamic content
Deliver the right content to each customer, to maximize engagement
Rich customer database
Fully integrated with Horizon One360, for richer insight & personalization
Multichannel content creation
Design eye-catching emails and clickable SMS or push messages – all in one place
Multi-phase campaigns
Easily schedule and send messages on their own or in a series, as a time-bound campaign
Triggered messages
Re-engage churn risks, deliver timely content or send a birthday offer – automatically
Analytics & reporting
Analyze the success of each campaign, across channels, and assess the commercial impact
Ready for more personalised messaging?
We'd love to show you how Horizon SendSmart can put customers at the heart of your marketing automation.