Horizon PlusPoint
Loyalty management software to grow advocacy, revenue and customer lifetime value.
All-in-one cloud software for personalized customer loyalty and loyalty program management

In an era of increasing personalization, your loyalty program can't afford to be generic. 
With Horizon PlusPoint, you can easily create engaging, personalized experiences for every customer – to grow emotional loyalty, increase customer retention and boost revenue.
Our loyalty program management software lets you automatically recommend the best activities and rewards for each customer, based on AI-powered insights. And deliver them, along with other tailored content, through a personalized loyalty portal, via a mobile app or at checkout.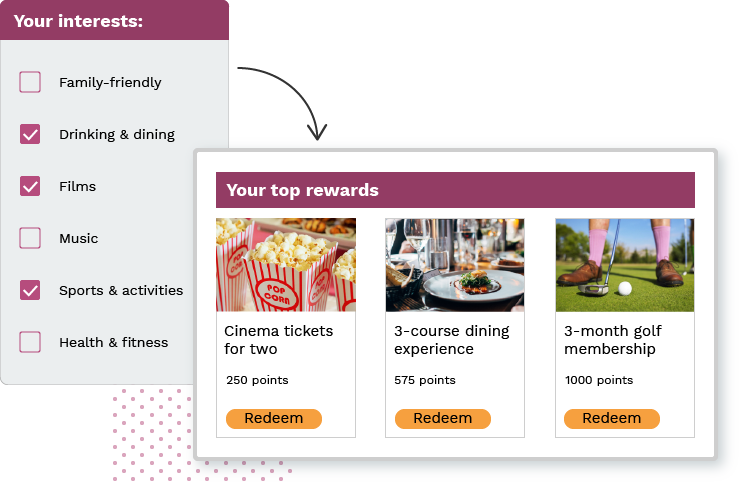 Rewarding loyalty — beyond the transaction

Go beyond the point of purchase, to reward and encourage the behaviors that matter – those that contribute to lasting, emotional loyalty.
With Horizon PlusPoint, you can reward customers for completing a range of customizable activities that help them connect with your brand, including:
engaging with targeted content (videos, blog posts, etc.)
filling out surveys or quizzes
completing offline activities or tasks

attending events
sharing content and referring friends through social media
Engaging new members with personalization
Emma has just joined the loyalty program of her favorite fashion retailer. But, like most consumers, she's a member of several other programs – so it will take something special to keep her engaged.
After signing up in-store, Emma receives an email inviting her to log-in to her personalized loyalty portal, where she can see the points from that day's purchase added to her account.
She earns more points by adding her interests and preferences to her profile. Immediately, she sees more personalized rewards in the portal and "favorites" two that she likes the look of.
Over the next few weeks, she gets a series of tailored messages prompting her to complete points-earning activities that suit her interests – and move her closer to her desired rewards.
One month after joining, Emma's already redeemed her first reward and is actively working towards the next one.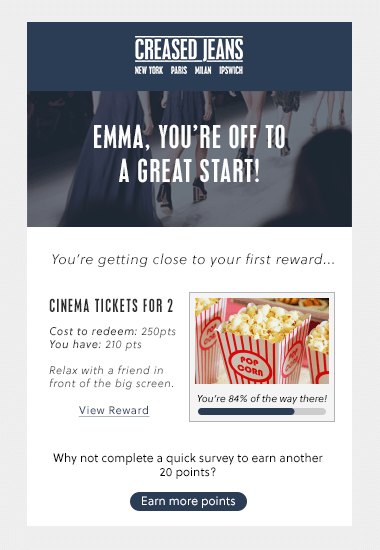 FEATURES
Everything you need to grow emotional loyalty
Loyalty behaviors
Award points for the behaviors that drive loyalty — beyond the moment of purchase
Custom loyalty portal
Give members an engaging, mobile-friendly way to keep up with the program
Coalition support
Allow multiple brands to contribute to the earning and burning of points
Seamless integration
Connect to your in-store POS, integrate with your mobile app & more with rich APIs
Personalized offers
Deliver real-time offer recommendations, tailored to each member
Gamification
Boost engagement with member tiers, loyalty groups and more
Ready for more personalised loyalty?
Whether you're revamping an existing program or starting from scratch, we'd love to show you how Horizon PlusPoint can help you engage members on a deeper level.