Horizon CXFlow
Automate smarter engagement across channels, to improve CX & reduce the cost of service.
Outsmart the competition with personalized interactions

Customers expect you to be just like Amazon or Uber – always there, easy to engage with and totally personalized to them.
When companies like these set the bar for service, the question is: how will you keep up? Especially when you're running a time-strapped team and wrangling data from siloed systems.
Horizon CXFlow works with your existing tech stack, to personalize each customer interaction, on any channel, using deep insight and AI-driven automation.
No coding, no data scientists – just great CX.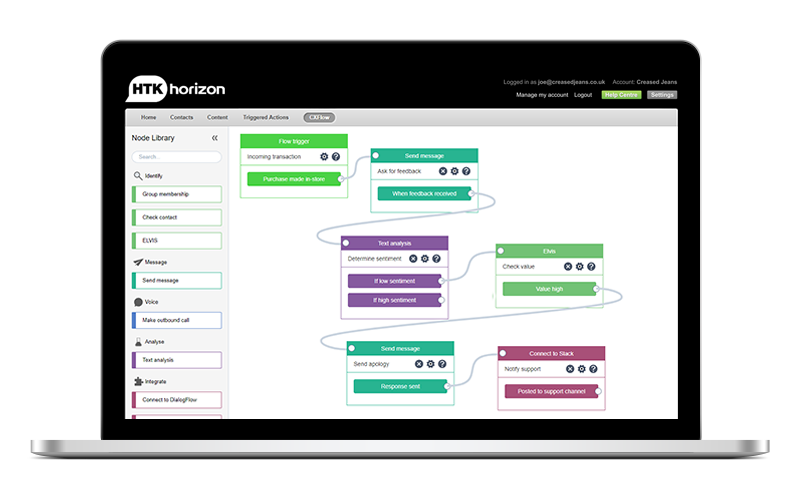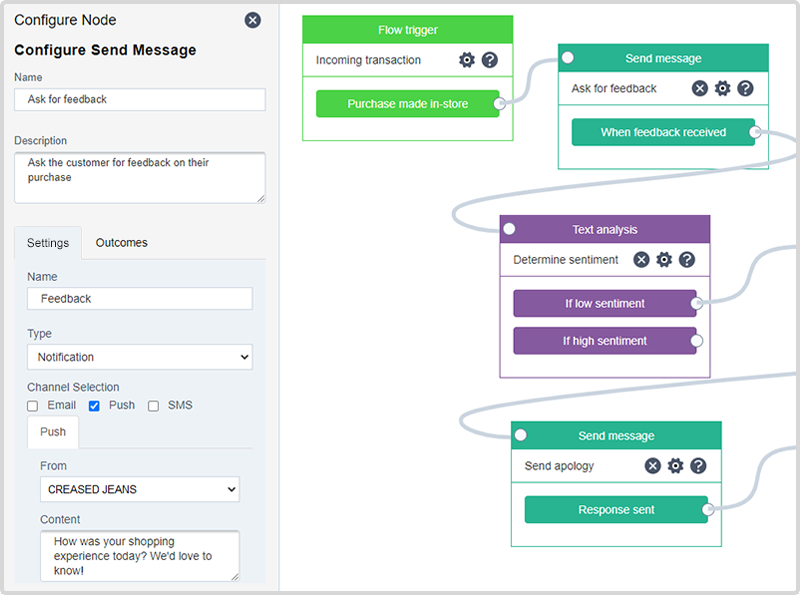 Drag-and-drop a better customer experience

Legacy systems, a lack of in-house skills, insight you can't really use – lots of things can stop great CX initiatives in their tracks. 
Horizon CXFlow takes the pain out of building better experiences. It integrates with all of your existing systems and channels – from social to CRM – to put rich customer insight behind every engagement.
And with a drag-and-drop interface, you can design AI-powered customer journeys, without needing a single line of code.
Learn more about integrations >> 
USE CASE
Turning a bad experience around
Bad experiences happen, even to the best brands. It's what you do afterwards that makes or breaks the customer relationship.
Take Phil, for example – during an interaction with his favorite retailer's chatbot, he mentions a poor experience he had in store.
Horizon CXFlow is integrated with the bot and knows that Phil is a high value customer and a churn-risk – so it kicks off a custom workflow for "high-priority complaints".
As a result, Phil's conversation with the bot is flagged to the customer service team for follow-up. And the next day, he receives a message letting him know that his comments were passed on – and that he's got free shipping on his next order to make up for the poor experience.
FEATURES
Smarter personalization on every channel
Visual drag-and-drop builder
Create intelligent customer journeys, no code needed
Sentiment & context analysis
Understand customers in the moment, for better decisions
Google DialogFlow & CloudAI
Access the latest AI innovations in an easy-to-use interface
Flexible bot integrations
Add intelligence and personalization to chatbots
Cross-channel experiences
Join up social messaging apps, chatbots & marketing comms
Ready for one-to-one engagement made easy?
Horizon CXFlow will be available soon. Sign up to be the first to know when we've launched.