Horizon AutoPilot
Everyone's talking about Data LakeHouses as the next generation of data storage and analytics.
Horizon AutoPilot gives you your own LakeHouse, a fully-featured BI stack, and out-of-the-box Machine Learning models – all with no need for data engineers or data scientists.
It's never been easier to get value from your customer data!
Want to learn more about the benefits of a Data LakeHouse, or see one in action?
Unlock the potential of a Data LakeHouse

First we had data warehouses, which were powerful but complex to set up and manage.  Then we had data lakes, which can store vast quantities of data and are simpler to manage, but (relatively) dumb.  The Data LakeHouse is a new concept that combines the benefits of data lakes and data warehouses, giving you the ability to store, process and analyse your data like never before.
Horizon AutoPilot is a best-practice Data Lakehouse, giving you all the benefits without the technical headaches:
Very cost-effective data storage
Powerful BI tools for data analysis
Direct access to data for creating and running Machine Learning (ML) models
Less complexity than a traditional 'data pipeline'
Less time, effort and cost for administration
Up and running within days, not months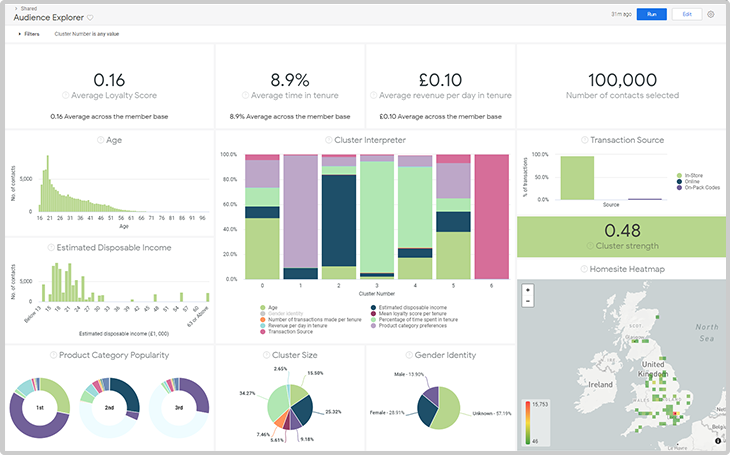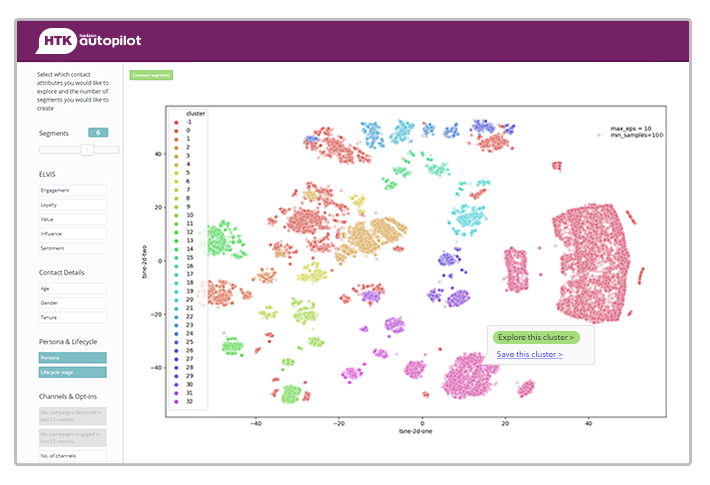 Get going quickly, without needing in-house expertise

The opportunity presented by machine learning and real-time customer insight is immense, but getting there can be a challenge, especially for mid-sized businesses.
We built Horizon AutoPilot to meet our own data analysis needs, and realised *it was really hard* to build a platform that worked reliably and was cost-effective to run.  Data ingestion, Spark and EMR processing, cluster management, metadata management, data governance, integration of BI tools… all needing to work seamlessly but without enormous compute costs.  
So having done all the hard work, and knowing that most businesses don't have the luxury of data engineers and data scientists, we decided to make the same platform available to our customers.
We're really excited about what we've built, and would love to show you what a difference it could make to your business.
Make your data work harder, to grow customer lifetime value
Horizon AutoPilot evaluates each customer to understand things like when they're likely to churn and what's pushing them away, while there's still time to make a difference.
So it knows that even though Joe purchased more recently than Lisa, he's actually a higher churn risk — and the likely cause is the poor interaction he had at his local store a few weeks ago.
Thanks to Joe's rich customer profile, AutoPilot also knows he's high value and a potentially powerful advocate, and flags him for a personalized follow-up.
Whether you want to use your new insights in your existing martech stack, or use the rest of our Horizon platform to personalise your CRM campaigns, loyalty program and sales promotions, we can help.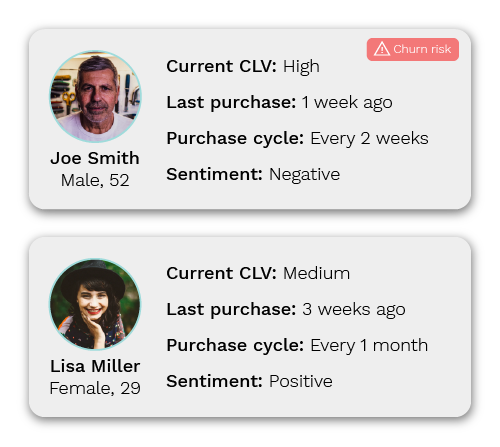 FEATURES
More value from your data. Fewer IT headaches.
Your own Data LakeHouse
Get the benefits of a best-practice LakeHouse without the IT headaches
Rich analytics & reporting
Powerful BI tools for reporting, building dashboards and sharing insights
Actionable insights
Use the rest of Horizon to go from data to insights to action, quickly.
Code-free data exploration
AI-powered insights that anyone can use
Intelligent predictions
Proprietary models for churn, lifetime value, recommendations and more
Custom ML models
Uncover more insight with custom-built algorithms
Ready for deeper customer insight?
We'd love to show you the power of Horizon AutoPilot.