NOW AVAILABLE TO DEMO
Create intelligent, omnichannel customer experiences in minutes with Horizon CXFlow
Drag-and-drop a better experience
Legacy systems, a lack of in-house skills, insight you can't really use – lots of things can stop great CX initiatives in their tracks.
Horizon CXFlow takes the pain out of building better experiences. It integrates with all of your existing systems and channels – from social to CRM – to put rich customer insight behind every engagement.
And with a drag-and-drop interface, you can design AI-powered customer journeys, without needing a single line of code.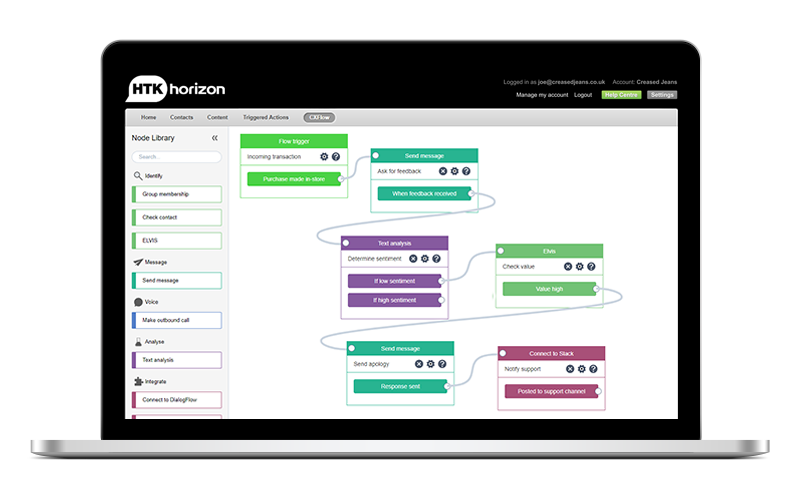 Personalize and adapt each interaction in real-time
Automate personalized journeys across mobile, social and offline channels
Easily integrate with any platform or data source — including POS and ecommerce
Analyze customer context and sentiment to tailor the experience as it happens
Connect to your internal channels and processes, as well as customer touchpoints

See what CXFlow can do for your business
CXFlow is a simple, intuitive and flexible platform for delivering better customer experiences. With easy integrations and highly configurable nodes, you can build custom workflows to address almost any CX challenge your business is facing.
We'd love to show you how CXFlow can work for you, through a personalized online demo.
Simply fill out the form and we'll be in touch to find out more about your business' goals and challenges.