Horizon AutoPilot
Spot valuable opportunities to grow customer engagement & spend, with easy-to-use Machine Learning (ML).
Grow lifetime value – no guesswork required

The opportunity presented by machine learning and real-time customer insight is immense, but getting there can be a challenge.
Horizon AutoPilot is your personal data scientist — using AI to make intelligent predictions that inform and direct your strategy.
With AutoPilot's proprietary models for predicting churn, customer lifetime value and next purchase date — as well as the ability to set up custom models — making smarter decisions is simple.
At a glance, you'll know who to target and what actions to take to encourage spend, grow advocacy and prevent churn.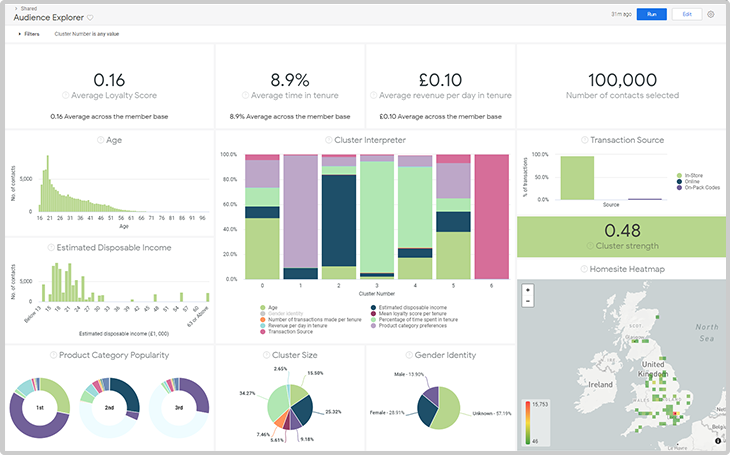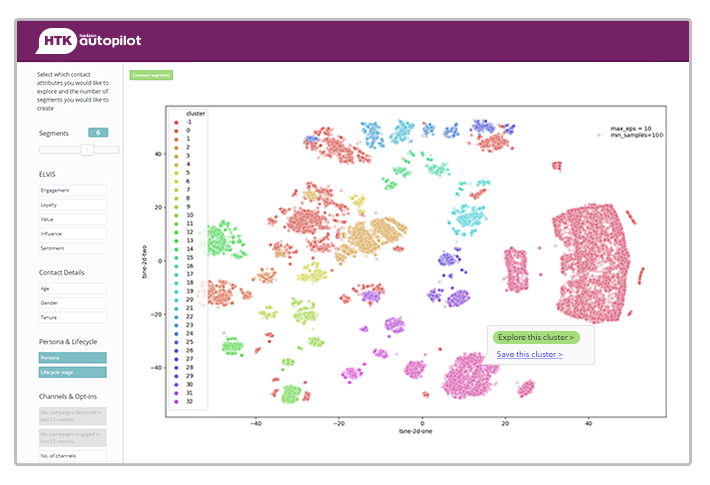 Make your data work harder

Getting all your data in one place is important, but it doesn't result in instant customer insight. Digging up the value buried there takes time and a particular skill set that many teams simply don't have. 
With Horizon AutoPilot, you can let AI do the digging for you. Our clustering algorithms and data exploration tools make it easy to find the hidden gems in your data. 
Let AutoPilot surface key insights — like how different segments are changing over time — or simply go exploring. With beautiful data visualizations, a simple-to-use interface and easy exports, you can discover new connections and useful trends in a flash.
Learn more about data integration >>
Know who's about to churn and why
Horizon AutoPilot evaluates each customer to understand when they're likely to churn and what's pushing them away, while there's still time to make a difference.
So it knows that even though Joe purchased more recently than Lisa, he's actually a higher churn risk — and the likely cause is the poor interaction he had at his local store a few weeks ago. 
Thanks to Joe's rich customer profile, AutoPilot also knows he's high value and a potentially powerful advocate, and flags him for a personalized follow-up.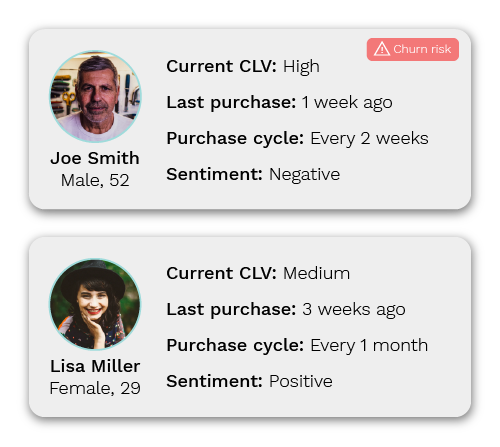 FEATURES
More value from your data. Fewer IT headaches.
Code-free data exploration
AI-powered insights that anyone can use
Intelligent predictions
Proprietary models for churn, lifetime value and more
Custom ML models
Uncover more insight with custom-built algorithms
Time-series groups
Track the behavior of different customers segments over time
Rich analytics & reporting
Connect your marketing efforts to real business results
Recommendations & advice
Proactive ML-based predictions and next best actions
Ready for deeper customer insight?
Horizon AutoPilot will be available soon. Sign up to be the first to know when we've launched.